Facts
freeware
Windows VST-Plugin
works with a fixed latency of 8960 samples (possibly compensated by VST-Host).
you can adjust predelay, attack-time, length and stereo width of the impulse response
Stretch (up & down sampling of impulse response)
FFT EQ (to adjust the frequency spectrum of the impulse-response)
Auto Gain (automatic volume compensation)
Dynamic CPU Consumption (use only the CPU power that is needed to get the result)
Download
The software on this site is provided "as-is," without any express or implied warranty. In no event shall the author be held liable for any damages arising from the use of the software.
Important information!
SIR1 is only available for Windows 32bit. SIR3 is available for Mac(AU/VST/VST3/AAX) and Windows(VST/VST3/AAX) 32bit and 64bit
Put the DLL-file into the VST-plugin folder of your VST-host.
If you want to use the new version instead of the old, rename the file like the old one.
Download Example Impulse Responses
F.A.Q.
Q: What is SIR1 ?
This is a reverb device that works with "impulse-responses". Impulse-responses are generated by recording short broadband signals and their corresponding room-reflections. What you get contains the information needed to reproduce the same room with other signals.
Due to technical reasons SIR1 works with a fixed latency of 8960 samples that is compensated for by the VST-host. SIR2 has a zero latency mode .
Sir is a stereo plugin. To take full advantage of stereo impulses for mono signals, you must first convert the track to stereo. You can download impulse-responses here at
www.echochamber.ch
. There is a great and extensive collection there. It's important though to cut out the initial signal at the beginning of the file (which normally has already been done for you).
Q: Which DAW have Plugin-Latency compensation.
This table is not complete. Without any warranty.
| | | | |
| --- | --- | --- | --- |
| | Insert | group Insert | Sends |
| Steinberg Cubase SX 1.X | X | - | - |
| Steinberg Cubase SX 2.X | X | X | X |
| Steinberg Nuendo 2.X | X | X | X |
| Steinberg Wavelab 3/4 | X | - | - |
| Steinberg Cubase 5.1 | X | - | - |
| Emagic Logic | X | - | - |
| Magix Samplitude | X | X | X |
| Cakewalk Sonar with VST-Adapter | X | X | X |
Q:How to get "Impulse Responses"?
Look
here
!
Q: Is a RTAS-Version of SIR available?
No, SIR is only available for the VST-Technology by Steinberg/Pinnacle.
Q:It seems if I move the Impulse Response, SIR can no longer find the file.
SIR refers always to the full path to the File. So if you move the file after you load it into SIR, you have to select the file at the new location again.
Q: the impulse files seem to be .rar files, but SIR seems to be looking for .wav files?
"rar" is a compression file-type. You have to use programs like "winrar" to unpack them and get wav files.
Q:My Sequencer doesn't compensate latency when using SIR as Send-Effect. How do I use SIR as Send-Effect?
Route all tracks to one group. Insert a Sample Delay in this Group-Track. ( for Example
AnalogX Sampleslide
). Use 8960 samples Latency.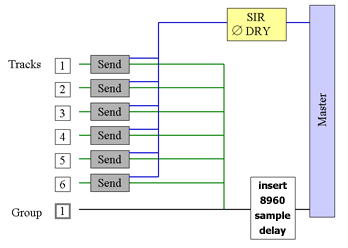 Changes and Fixes
SIR 1.011
some font size problems fixed
vst compatibility bug fixed
SIR 1.010
SIR 1.008
SIR 1.007
EQ-Bug fixed

window size problems fixed

possible crash fixed

default file option

SIR 1.005
lower Latency 16384 --> 8960
Stretch
reverse
+12dB button
smooth eq
dynamic CPU consumption
file selector remembers last location
new interface design
lower memory consumption
Bug fixes
some eq problems removed
some wav-import bugs removed
SIR 0.86beta
Features:
performance optimised
Wave Import 24-32 bit
new slider ( fine option with "shift" )
FFT EQ for the IR
Attack+Time Early Reflections Parameter
Auto gain option
some internal things
incoming Signal stereo width
new interface design
some sweets
Bug fixes
Bypass
parameter change
some denormal fixes
SIR 0.76beta
added stereo routing options
list items sorted
online help
some wav-import bugs fixed ( not all )
smaller length value reduce cpu consumption
envelope preview
small length bug fixed
new look
bypass function
SIR 0.74beta
SIR 0.73beta
SIR 0.72beta
better dB-resolution
performance optimised
SIR 0.71beta
SIR 0.7beta
SIR got significantly faster
SIR 0.61beta
crackling-free ASIO latency got tremendously reduced
length and resolution of the loaded files are shown
problems with umlauts are solved
new look
SIR 0.6beta
algorithm is 5 times faster
values in dB
maximum impulse length is now 18 sec