Trigger sounds and more!
Trigger sounds, samples and songs with your computer-keyboard or midi-device
Provide backing tracks for live acts and generate a click-track for the drummer on a separate channel
Play jingles and loops in a radio show or at the theater
Play multichannel sound files for art-performances and sound sculptures
Present examples of your work to customers at your studio
qwertyGO!
is useful for all
musicians/artists/DJ's
on stage,
theaters
,
radio stations
, for
sport events
or wherever you want to play jingles/backing-tracks/sounds-effects. It's just this nifty little helper you sometimes need!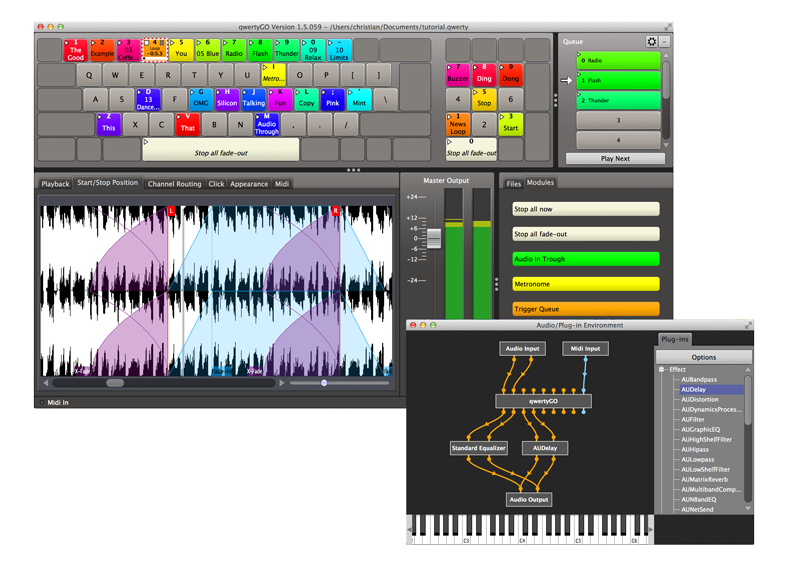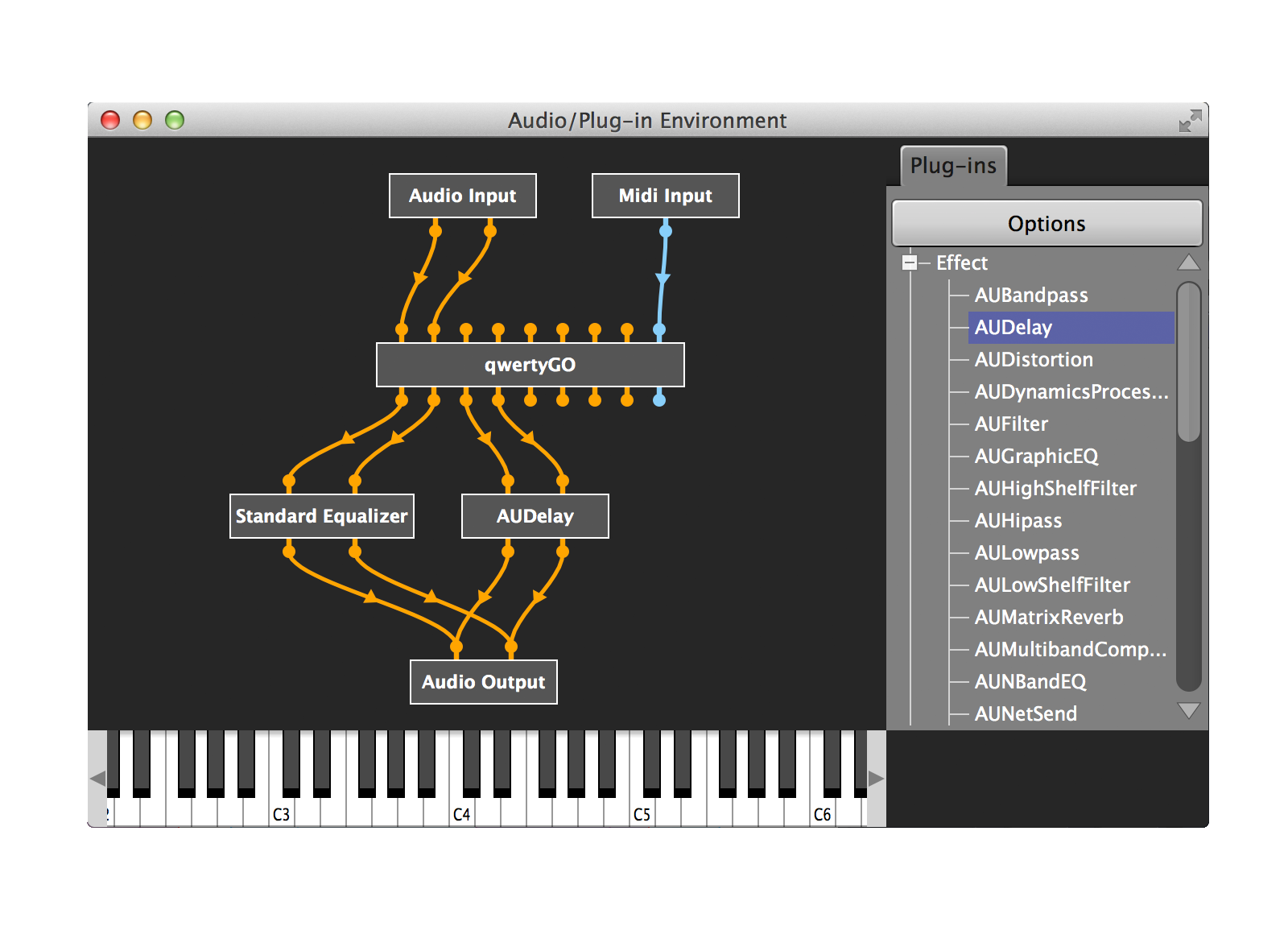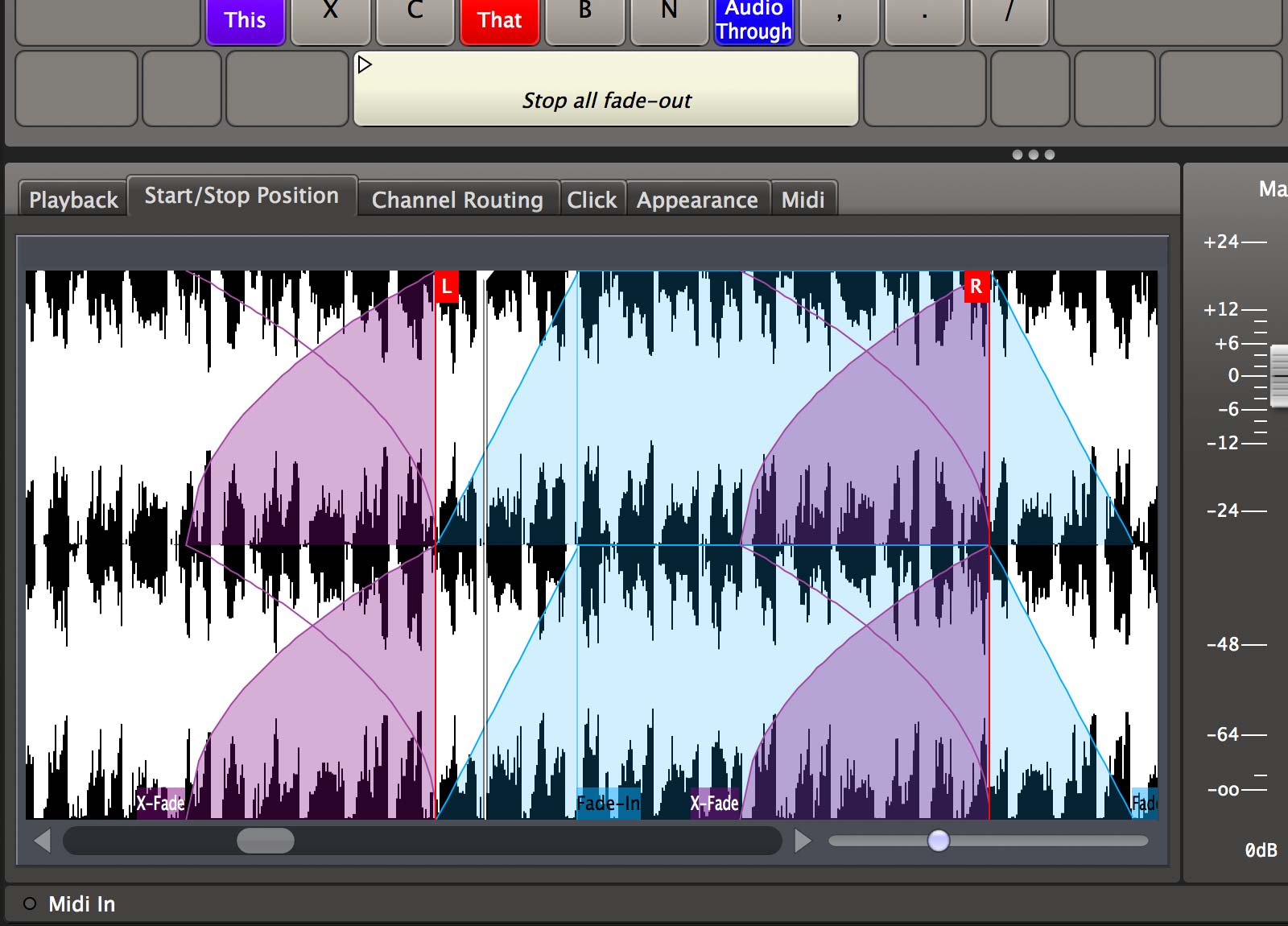 Features
Trigger sounds with you computer keyboard
Midi-support
adjustable fade-in, fade-out and cross-fade time
adjustable pitch
"Stop All" function with adjustable fade-out time
different play-modes like "play loop - stop when key is pressed again" etc...
Mute groups
supports different keyboard-Layouts (incl. QWERTY, QWERTZ, AZERTY ...)
multichannel/surround output and routing functions
adjustable start and stop position in a waveform display
imports WAV, AIFF, OGG, FLAC, MP3(via Apple CoreAudio/Windows Audio Compression Manager)
generate Click-Track on separate channel
New in v1.5:
Audio Plugin Environment (AU & VST Plugin Integration)
new key Modules: Audio In Through (for Routing Live-In Audio through qwertyGo)
Trigger Group Parameter (to start sounds simultaneously)
Appearance Settings
16 channel output option
StandardEQ integration (internal version)
Mac Version now Code-Signed and Retina aware
Windows Version high DPI-Aware
New in v1.6:
Queues (trigger different sounds with one key)
"Undo" for all key related operations
multiple selections & cut/copy/paste
YouTube
YouTube videos are only displayed after accepting the banner at the top of the screen.
Requirements
Windows: Windows 7/8/10
Mac: Intel Processor with Mac OSX 10.7 or newer
2 GB RAM or more